with pride for the tradition
and local region
BREWING BEER
The city of Pardubice has a long history associated with beer. Vilém z Perštejna (William II of Pernstein), a Moravian aristocratic, recognised the potential of beer centuries ago. As did the founders of Pardubice brewery, a joint stock company set up in 1871. And we know it too. Beer. Tradition. Pardubice.
FOR 150 YEARS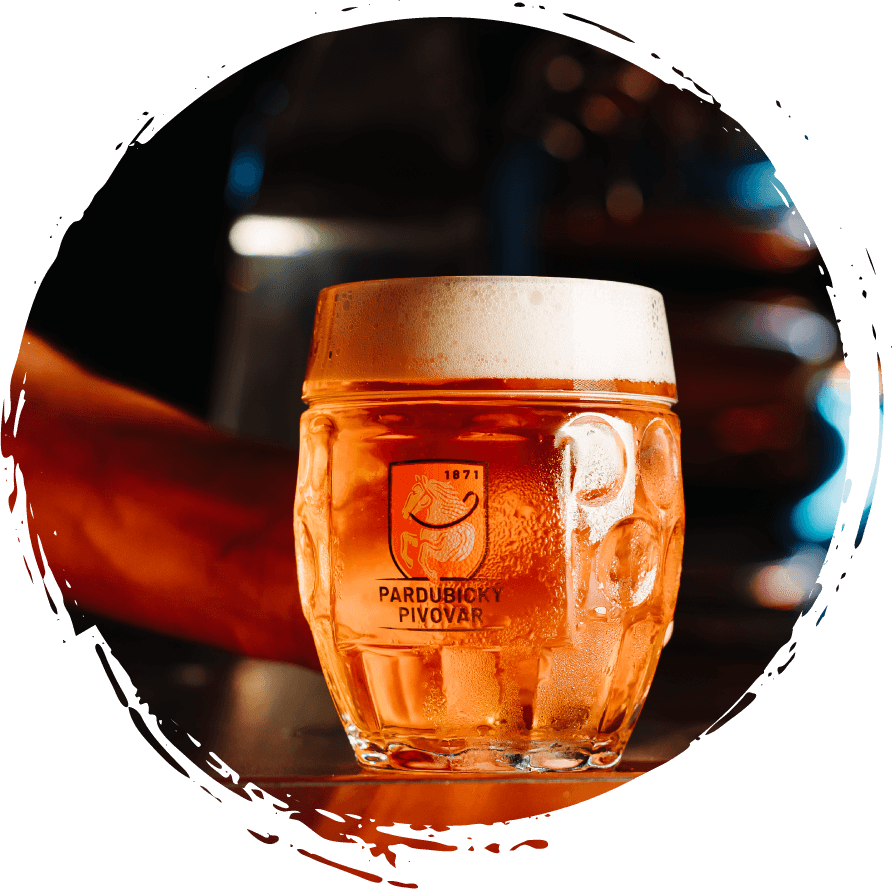 #BEER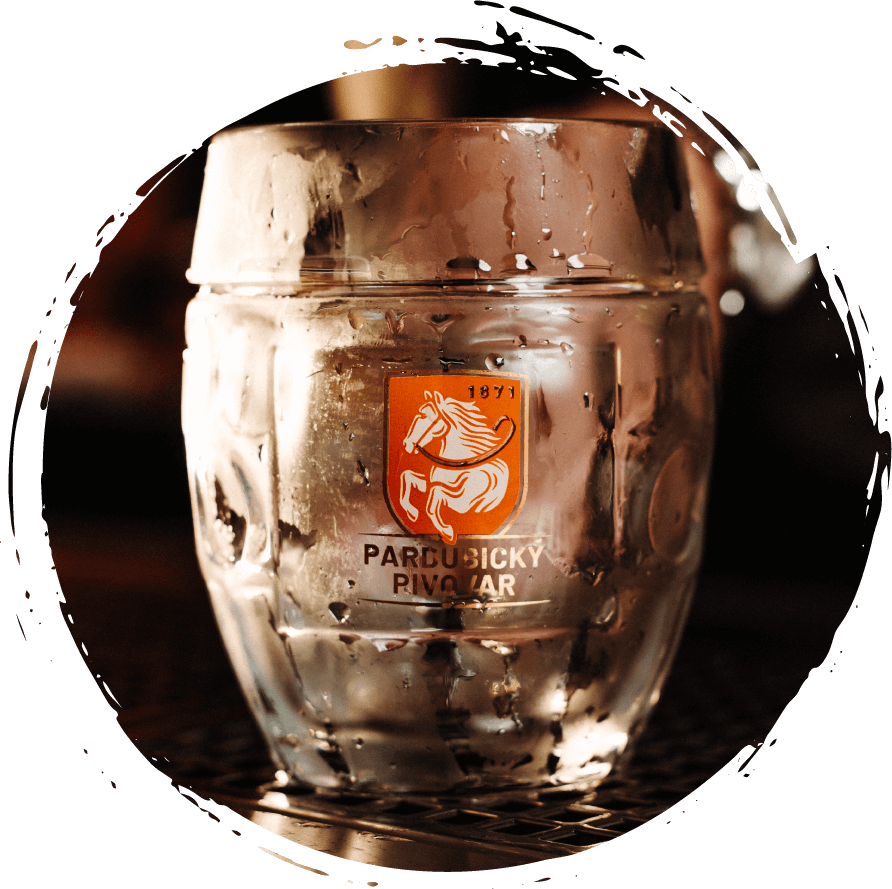 #PARDUBICE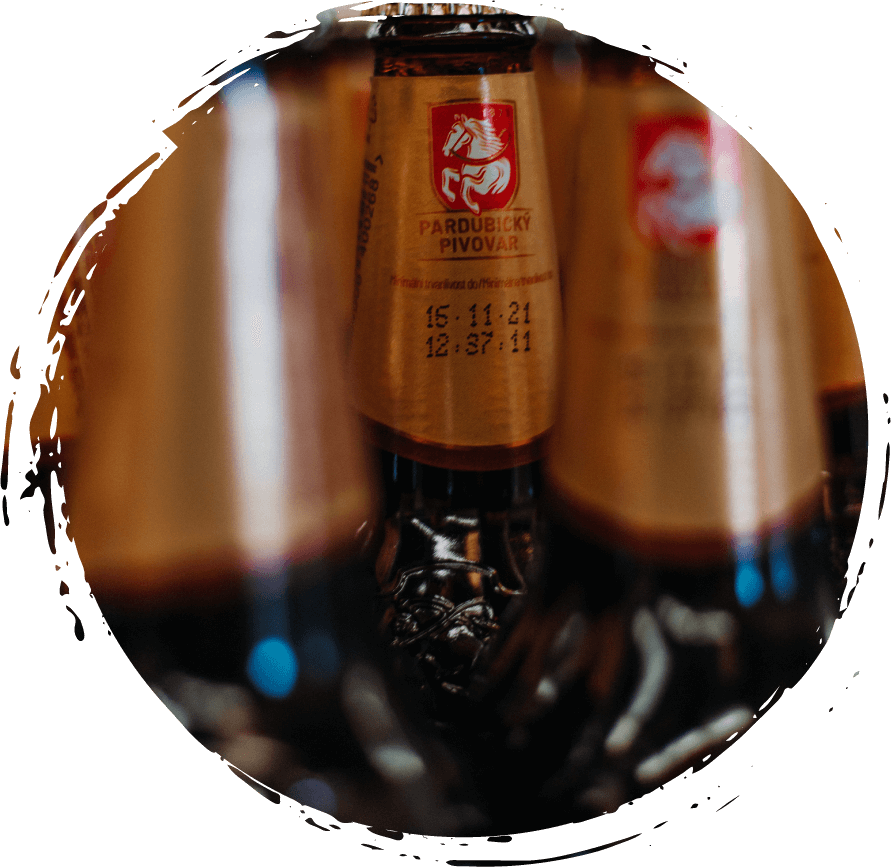 #TRADITION

BEER FROM THE CITY
OF REVERED NOBILITY
Brewing beer is a tradition in Pardubice, one dating back to the early 14th century, as reflected in the names of the various types brewed. The Pernštejn brand – registered in 1972 – continues this legacy. The eleven-degree beer bears the name of the foremost member of the historical aristocratic family, Vilém. Situated at the confluence of the Rivers Elbe and Chrudimka, the city is also home to Europe's toughest steeplechase. Its traditions are conveyed in a title given to a special 14-degree beer – Taxis (the race's infamous obstacle). Porter – a special, dark, nineteen-degree beer – holds a unique place in the city's brewing heritage. First brewed in 1890, it remains unmatched in its strength and superior quality.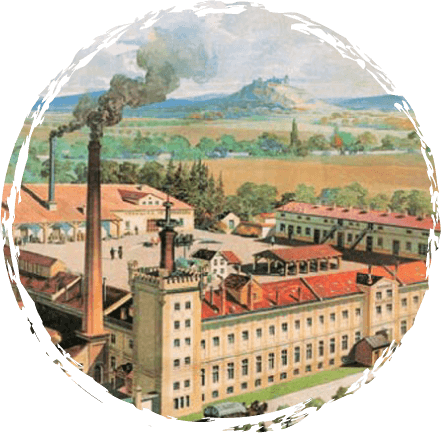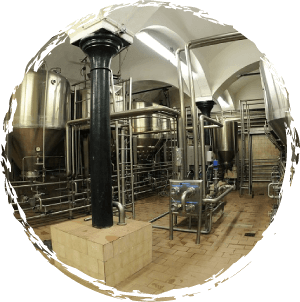 keyboard_arrow_left

VILÉM Z PERNŠTEJNA
In 1491, the settlement of Pardubice was purchased by the richest Moravian aristocratic, Vilém z Pernštejna. He set about establishing the trade of brewing in the town a decade later. Four breweries were founded (town, municipal, castle and parish). High-quality beer was brewed, superior to competitors'. Numerous public houses were also permitted to serve beer from Pardubice only.
JOINT STOCK BREWERY
A venture by local entrepreneurs, a joint stock company was set up under the name of Akciový pivovar. In January 1871, a committee decided to build a new brewery powered by steam engines. Out of 17 candidates, František Chodounský was selected for the head brewer's office. Construction drew to a close on 1 April 1872, having cost a total of 272,305 Austro-Hungarian guldens.
PARDUBICKÝ PORTER
The Pardubice brewery attained an annual production of 15,000 hl, and it was one of the first modern breweries in Eastern Bohemia. On 1 October 1889, Alois Šimonek became the head brewer, and created Porter – a 19-degree beer. Introduced in March 1890, it remains popular today. In 1928, production at the Pardubice Brewery exceeded 100,000 hectolitres of beer for the first time in its history.
TURBULENT 20th CENTURY
As a result of WWII, sales of beer declined in general, and a low-degree type was produced. In 1945, the brewery fell under state control and it was nationalized in 1949. It did not become a joint stock company again until 1 January 1993. Prior to this, the Pardubice Brewery annually turned out 310,000 hl of beer, 50,000 hl of soft drinks and 2,000 tonnes of malt for internal use.
keyboard_arrow_left

PARDUBICKÝ PORTER
A special, dark, nineteen-degree variety, Porter is a unique product in the history of brewing in Pardubice. Launched in 1890, it remains a leading product in the market, and is virtually unmatched for its strength and superior quality.

The beer is brewed to a Czech recipe. Its unique sweet taste is achieved through an unchanged, traditional composition of 4 malts – Czech, Munich (Bavaria), caramel and coloured. The beer is brewed exclusively with hops from the Žatec area in the Czech Republic. Porter is truly a product of Czech origin and it ranks among the strongest of black beers.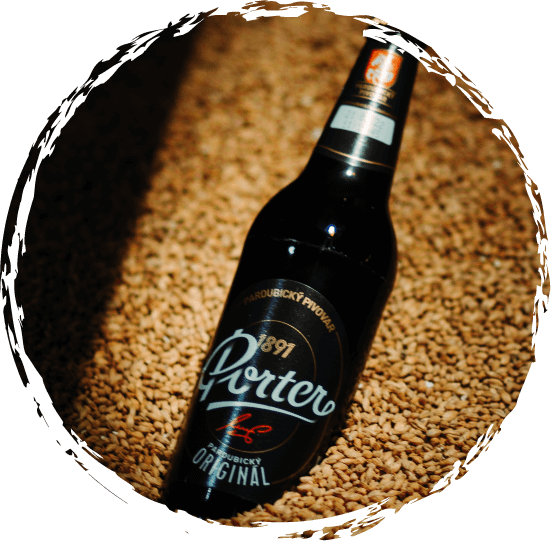 keyboard_arrow_left

PRÉMIUM PALE LAGER
2017 – Gold Brewer's Seal in the Premium Pale Lager category

2014 – Bronze Brewer's Seal in the Premium Pale Lager category

2013 – 3rd place in the Pale Lager category – the First Beer Extra-league contest

PARDUBICKÝ GRANÁT 13
2018 – Placed 2nd in the Beer of the Czech Republic competition in the Dark Special Beer category

2018 – Placed 2nd in the Special Beer of the Year competition

2017 – Silver Brewer's Seal in the Dark Special Beer category
PARDUBICKÝ PORTER
2017 - Pivo, Bier & Ale magazine award for the best export beer in the dark special category

2015 - Pivo, Bier & Ale magazine award for long-term maintenance of Pardubický Porter beer quality
PARDUBICKÝ TAXIS
2019 – Placed 1st in the 2019 Beer of the Czech Republic competition, in the Pale Special Beer category

2011 – Won the Regional Food title in the Alcoholic & Non-alcoholic Beverage category

keyboard_arrow_left
THE BREWERY'S HISTORY
PORTER SPECIAL
AWARDS

12 DEGREE BEER
ZE SKLEPA
The most recent addition to the Pernštejn beer family, this 12-degree beer is produced from the highest quality raw materials using proven technology. It is richly hopped for a distinctive bitter taste. The original aroma of Moravian malt and a variety of Žatec hops lend the beer a medium body. Sampling it reveals a pleasant, lingering bitterness on the tongue that encourages further sipping.
Alcohol content
5.0% vol.
water, barley malt,
Zatec hops
keg 30l / 50l
bottle 0,5l
tin 0,5l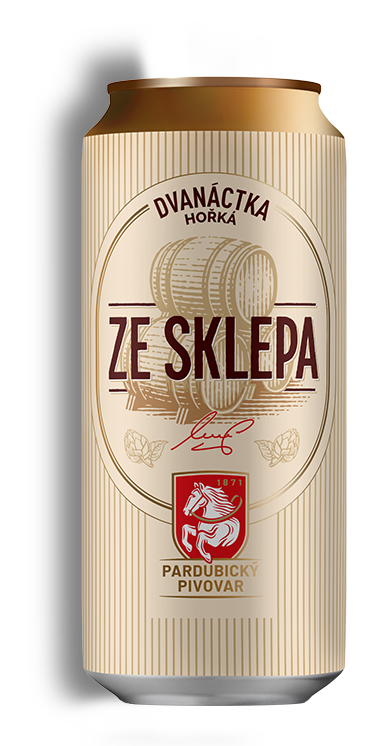 ORIGINAL
PERNŠTEJN
A pale draught beer, Pernštejn Originál is the cornerstone of our range. It has a fine, malty body and subtly yeasty flavour and aroma. The hops give it a pleasant bitterness, while the head is rich and it has a good level of zest. The hoppy flavour and aroma result from the Czech hops utilised. It is perfectly suited to provide pleasant refreshment.
Alcohol content
4.0% vol.
water, barley malt,
Zatec hops
keg 30l / 50l



11 DEGREE BEER
VILÉM
The flagship product of the Pardubice Brewery, this pale eleven-degree beer named Vilém is highly popular with consumers domestically and abroad. Vilém is a beer with a highly malty flavour, bright, golden appearance and rich head. The carefully selected ingredients that go into it guarantee a sense of zest, the bitterness of hops and a pleasant aroma.
Alcohol content
4.5% vol.
water, barley malt,
Zatec hops
keg 15l / 30l / 50l
bottle 0,5l / 0,33l
tin 0,5l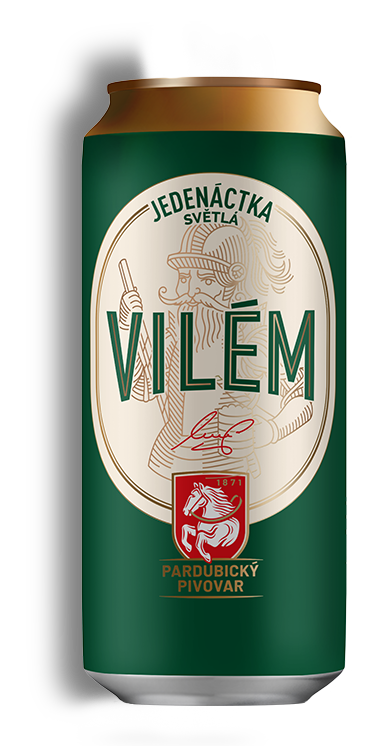 PREMIUM
PERNŠTEJN
An original recipe for pale lager passed down by brewers throughout the brewery's history, Pernštejn Premium is brewed from the highest quality Czech ingredients. It is a deeply fermented beer with a full malty flavour, distinct zest and a subtle level of hops in the aroma and flavour. A maturation period of up to 40 days ensures the high quality of this pale lager, one especially designed for pleasant enjoyment and to satisfy even the most demanding beer drinkers.
Alcohol content
4.8% vol.
water, barley malt,
Zatec hops
keg 30l / 50l,
bottle 0,5l
multipack 8x0,5l



UNFILTRED
KVASŇÁK
The true character of this beer is revealed only after 70 days of ageing, so it demands a high level of care in the lager cellars and great patience with the brewing process. Omitting the filtration process, Pardubice Kvasňák boasts an extremely rich taste and is sure to appeal to enthusiasts of unfiltered beers.
Alcohol content
5.6% vol.
water, barley malt,
Zatec hops
keg 30l



SPECIAL
TAXIS
Pardubice's fine brew. No expense spared! Named after the "Taxis" jump in the local steeplechase feared by horses and jockeys alike, this double-meshed pale beer gets the blood pumping. Pardubický Taxis appeals to connoisseurs and adventurous drinkers.
Alcohol content
5.7% vol.
water, barley malt,
Zatec hops
keg 15l / 30l
bottle 0,5l / 0,33l
mixpack 3x0,33l




ORIGINAL
PORTER
The original recipe for this beer was devised by the company's third master brewer, Alois Šimonek. It first saw the light of day in 1891, and proved a hit with visitors from home and abroad at the Jubilee Exhibition in Prague. Pardubický Porter is brewed in the same way as 130 years ago and to the original recipe. A blend of 4 select malts and maturation period of 120 days lends our Porter its characteristic dark, almost black hue and generous head. The refined taste combines malt with a sweetish tone. The recipe has been a carefully guarded secret by generations of brewers.
Alcohol content
8.0% vol.
water, barley malt,
Zatec hops
keg 15l / 30l
bottle 0,5l / 0,33l
multipack 3x0,33l
gift bottle 1l



BUY OUR BEER
ENJOY A BEER OUT
Drop by our very own restaurant – Pardubický PUB – and sample the range of brews by the Pardubice Brewery, including Vilém, a tank beer. Or head over to one of the company's Pivovarka stores. Pardubice beers are also available from other retailers. Time for a beer!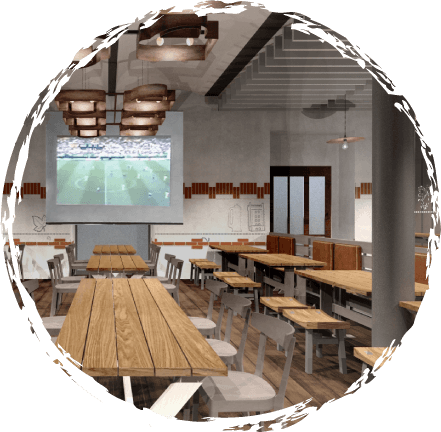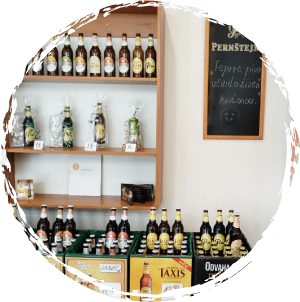 Pardubice PUB
Palackého třída 250, Pardubice
t: 602 667 482
www.pardubickypub.cz
10.00 - 23.00 (Monday-Thursday)
10.00 - 24.00 (Friday and Saturday)
10.00 - 22.00 (Sunday)
pivovar@pernstejn.cz
PARDUBICKÝ PIVOVAR a.s.
Palackého třída 250, 530 33 Pardubice
ID No: 47468556, TIN: CZ47468556
Bank account: 256059014/0300
Reception +420 734 577 207
PIVOVARKA PARDUBICE, Palackého třída 250
tel: 605 226 568, prodejna@pernstejn.cz
Mon to Fri 8.00–16.30 (pause 11.30–12.00), Sat 8.00 - 12.00

PIVOVARKA PŘELOUČ, Obránců míru 1310
tel: 601 318 328, prelouc@pernstejn.cz
Mon 12.30 - 17.00, Tue to Fri 8.30 - 17.00, Sat 8.00 - 11.00

PIVOVARKA LÁZNĚ BOHDANEČ, Pernštýnská 142
tel: 601 318 384, bohdanec@pernstejn.cz
Mon 12.30 - 17.00, Tue to Fri 8.30 - 17.00, Sat 8.00 - 11.00
PIVOVARKA PARDUBICE
Palackého třída 250, Pardubice
tel: 605 226 568, prodejna@pernstejn.cz

PIVOVARKA PŘELOUČ
Obránců míru 1310, Přelouč 535 01
tel: 601 318 328, prelouc@pernstejn.cz

PIVOVARKA LÁZNĚ BOHDANEČ
Pernštýnská 142, Lázně Bohdaneč 533 41
tel: 601 318 384, bohdanec@pernstejn.cz
Monday to Friday 8.00–16.30
(lunch break 11.30-12.00)
Saturday 8.00 - 12.00

Monday 12.30 - 17.00
Tuesday to Friday 8.30 - 17.00
Saturday 8.00 - 11.00

Monday 12.30 - 17.00
Tuesday to Friday 8.30 - 17.00
Saturday 8.00 - 11.00
open:



open:



open:



PIVOVARKA PARDUBICE
Palackého třída 250, Pardubice
tel: 605 226 568, prodejna@pernstejn.cz
Mon to Fri 8.00–16.30 (pause 11.30–12.00), Sat 8.00 - 12.00

PIVOVARKA PŘELOUČ
Obránců míru 1310, Přelouč 535 01
tel: 601 318 328, prelouc@pernstejn.cz
Mon 12.30 - 17.00, Tue to Fri 8.30 - 17.00, Sat 8.00 - 11.00

PIVOVARKA LÁZNĚ BOHDANEČ
Pernštýnská 142, Lázně Bohdaneč 533 41
tel: 601 318 384, bohdanec@pernstejn.cz
Mon 12.30 - 17.00, Tue to Fri 8.30 - 17.00, Sat 8.00 - 11.00
SHIPPING
+420 466 746 715
+420 605 226 564

SALES DEPARTMENT
Aleš Janoušek
+420 725 929 764

CUSTOMER SERVICE
+420 257 191 857
SHIPPING
+420 466 746 715, +420 605 226 564

SALES DEPARTMENT
Aleš Janoušek, +420 725 929 764

CUSTOMER SERVICE
+420 257 191 857
FOR SHAREHOLDERS (CZ)
RESTAURANT
COMPANY STORES
SHIPPING / ORDERS
PUBLIC PROCUREMENT / SUBSIDIES (CZ)
VACANCIES (CZ)